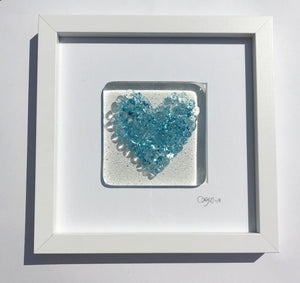 Turquoise Bubble Heart
Regular price
£ 55.00 GBP
£ 0.00 GBP
Tax included.
This picture is made using a two part process which is quite time consuming!
Firstly all the little glass beads have to be chopped up individually and cooked overnight to make glass spheres. Then I form them into a heart shape and cook them gently to keep that fabulous texture and bobbliness.
The heart is attached firmly to the front of the clear glass so that it appears to be floating. 
Glass approx. 10x10cm.
White wooden frame 23x23cm.
---